10 REASONS TO GET A DOG
Click the link below !!!
http://www.sqda.org/images/buyadog01.pps
Lessons in life with animals
Click the link below !!!
http://www.sqda.org/images/Vieheureuse.pps
ANGER
WHEN IMPRINTING TRIALS GO AWRY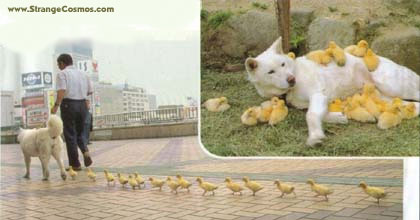 DOG TIRED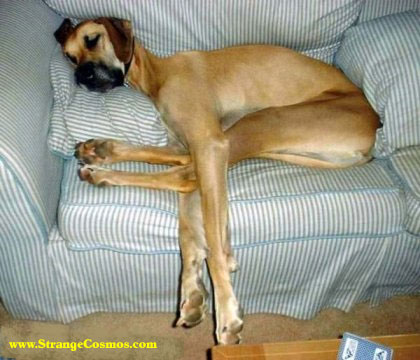 MILK!! IT DOES A BODY GOOD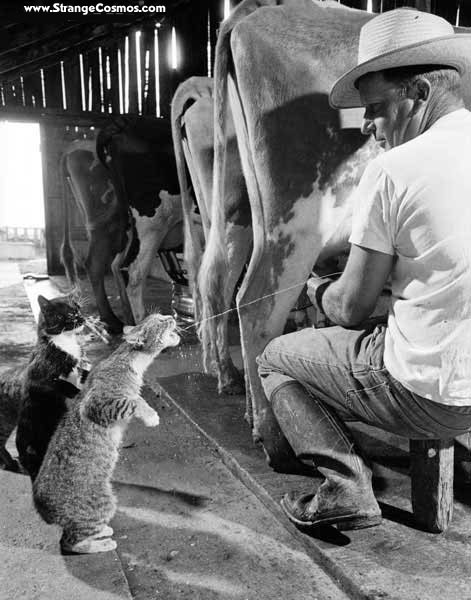 LAZY DOG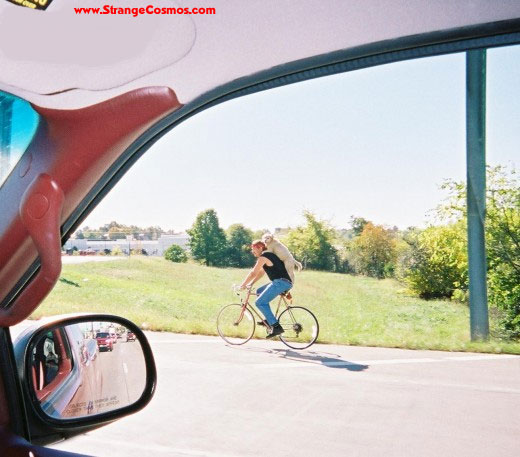 LUNCH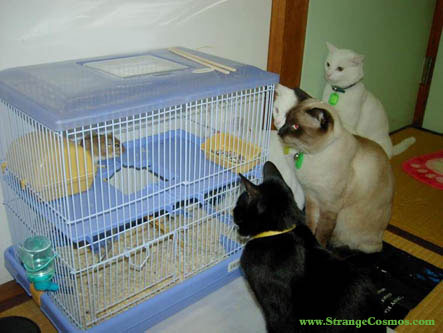 ---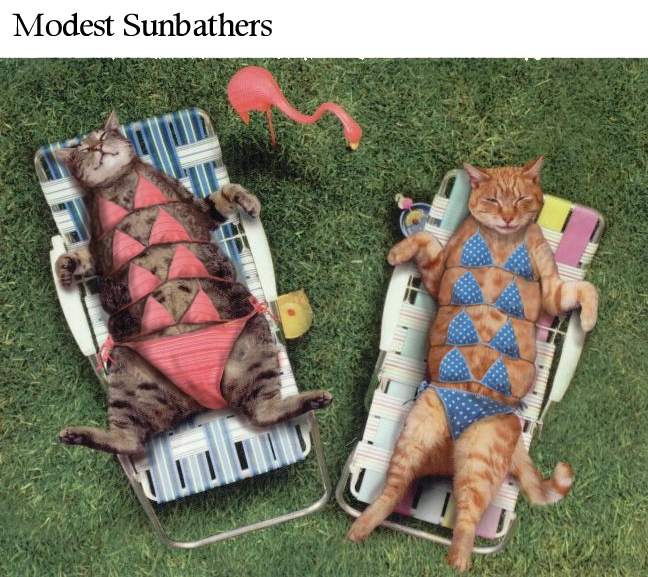 ---
SMILE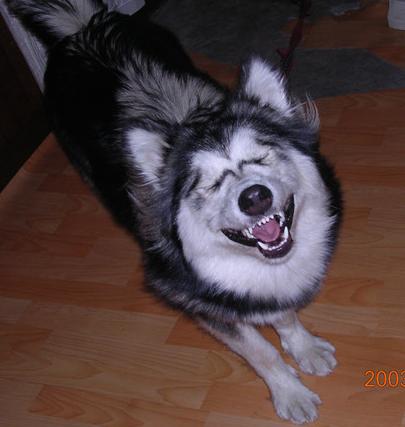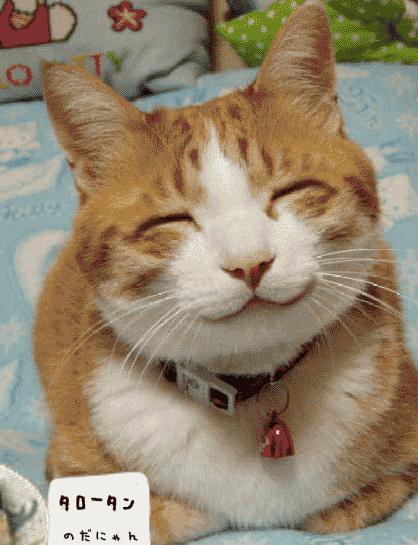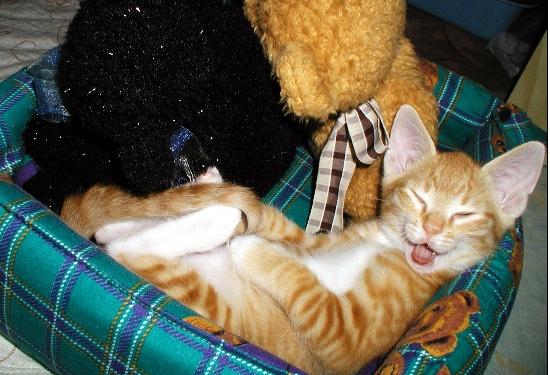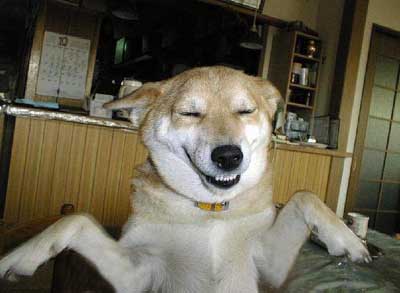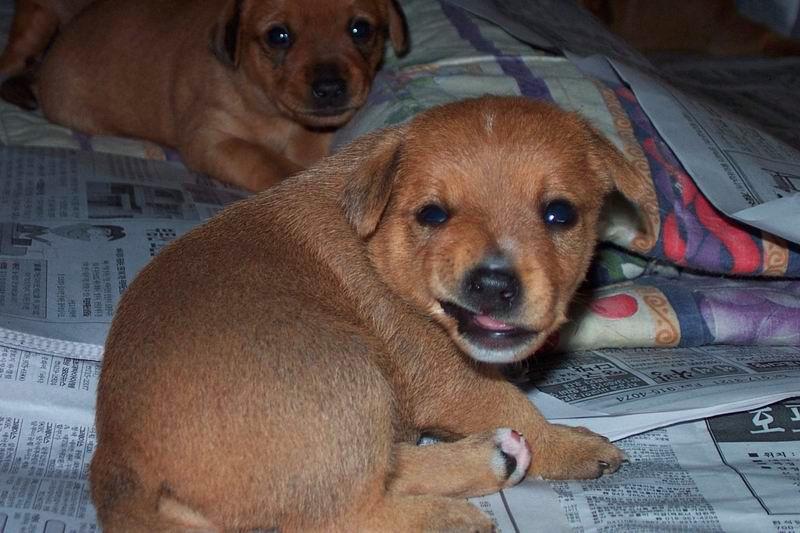 ---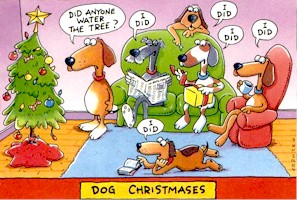 Question: How many dogs does it take to change a light bulb?

Golden Retriever:
The sun is shining, the day is young, we've got our whole lives ahead of us, and you're inside worrying about a stupid burned out bulb?

Border Collie:
Just one. And then I'll replace any wiring that's not up to code.

Dachshund:
You know I can't reach that stupid lamp!

Rottweiler:
Make me.

Lab:
Oh, me, me!!!! Pleeeeeeze let me change the light bulb! Can I? Can I?
Huh? Huh? Huh? Can I?

German Shepherd:
I'll change it as soon as I've led these people from the dark, check to make sure I haven't missed any, and make just one more perimeter patrol to see that no one has tried to take advantage of the
situation.

Malamute:
Let the Border Collie do it. You can feed me while he's busy.

Jack Russell Terrier:
I'll just pop it in while I'm bouncing off the walls and furniture.

Poodle:
I'll just blow in the Border Collie's ear and he'll do it. By the time he finishes rewiring the house, my nails will be dry.

Cocker Spaniel:
Why change it? I can still pee on the carpet in the dark.

Doberman Pinscher:
While it's dark, I'm going to sleep on the couch.

Maltese:
Who cares? I can still play with my squeaky toys in the dark......

Mastiff:
Mastiffs are NOT afraid of the dark.

Chihuahua:
Yo quiero Taco Bulb.

Irish Wolfhound:
Can somebody else do it? I've got this hangover.....

Pointer:
I see it, there it is, there it is, right there....

Greyhound:
It isn't moving. Who cares?

Australian Shepherd:
First, I'll put all the light bulbs in a little circle....

Old English Sheep Dog:
Light bulb? I'm sorry, but I don't see a light bulb?

Bama Hound Dog:
ZZZZZZZZZzzzzzzzzz.z.z.z..z..z..z...z

Cat:
Dogs do not change light bulbs. People change light bulbs. So the question is: How long will it be before I can expect light?

*************************
*************************
"HOW A DISHWASHER REALLY WORKS"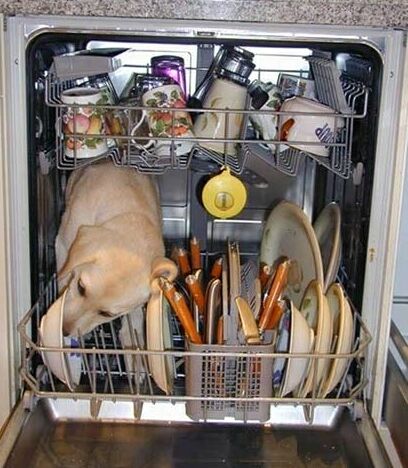 *************************
*************************
PET PEEVES DOGS HAVE ABOUT HUMANS
1. When you run away in the middle of a perfectly good leg humping.
2. Blaming your farts on us....not funny.
3. Yelling at me for barking... I'M A FRIGGIN' DOG YOU IDIOT!!!!
4. How naive you are to believe that the stupid cat hasn't been all over everything while you're gone. (Have
you noticed that your toothbrush tastes a little like cat butt?)
5. Taking me for a walk, then not letting me check stuff out. Whose walk is this anyway?
6. Any trick that involves balancing food on my nose...quit it.
7. Yelling at me for rubbing my ass on your carpet. Why'd you get the carpet?
8. Getting upset when I sniff the crotches of your guests. Sorry, but I haven't quite mastered the handshake thing yet.
9. How you act disgusted when I lick myself. Look...we both know the truth. You're just jealous.
10. Dog sweaters. Have you noticed the fur??? Imbecile!
11. Any haircut that involves bows or ribbons. Now you know why we chew your stuff up when you're not home.
12. Taking me to the vet for "the big snip" and then acting surprised when I freak out every time we go back. DUHHHH!
13. The sleight of hand, fake fetch throw. You fooled a dog! What a proud moment for the 'top of the food chain'.
You nitwit
*******************************
*******************************
I want to be a bear......
If you're a bear, you get to hibernate. You do nothing but sleep for six months. I could deal with that.
Before you hibernate, you're supposed to eat yourself stupid. I could deal with that too.
If you're a bear, you birth your children (who are the size of walnuts) while you are sleeping and wake to partially grown, cute, cuddly cubs. I could definitely deal with that.
If you're a mama bear, everyone knows you mean business. You swat anyone who bothers your cubs. If your cubs get out of line, you swat them too. I could deal with that.
If you're a bear, your mate EXPECTS you to wake up growling. He EXPECTS that you will have hairy legs and excess body fat. Yup......I want to be a bear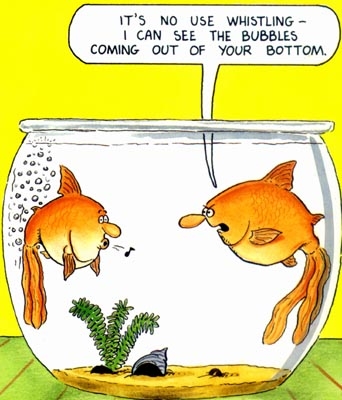 Notice to People That Visit Our Home


1. The dog lives here. You don't.

2. If you don't want the dog to be near you,
stay off the furniture.

3. Yes, he has some disgusting habits. So
do I and so do you. What's your point?

4. OF COURSE he smells like a dog.

5. It's his nature to try to sniff your crotch.
Please feel free to sniff his.

6. I like him a lot better than I like most people.

7. To you he's a dog. To me he's an adopted
son who is short, hairy, walks on all fours
and doesn't speak clearly. I have no problem
with any of these things.

8. Dogs are better than kids. They eat less, don't
ask for money all the time, are easier to train,
usually come when called, never drive your car,
don't hang out with drug-using friends, don't
smoke or drink, don't worry about whether
they have the latest fashions, don't wear your
clothes, don't need a gazillion dollars for university,
and if they get pregnant you can sell the pups.

***************************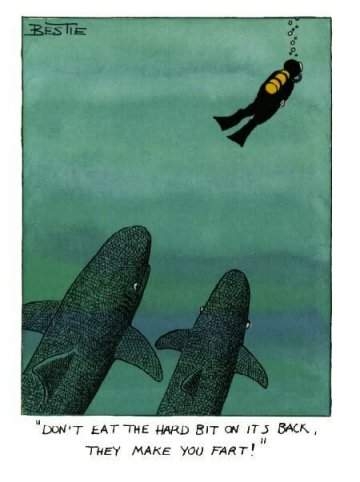 ***************************
There were three country churches in a small Texas town: the Presbyterian Church, the Methodist church and the Catholic Church.
Each church was overrun with pesky squirrels. One day, the Presbyterian Church called a meeting to decide what to do about the squirrels. After much prayer and consideration they determined that the squirrels were predestined to be there and they shouldn't interfere with God's divine will.
The Methodist group got together and decided that they were not in a position to harm any of God's creations. So, they humanely trapped the squirrels and set them free a few miles outside of town. Three days later, the squirrels were back.
It was only the Catholics who were able to come up with the best and most effective solution. They baptized the squirrels and registered them as members of the church. Now they only see them on Christmas and Easter.
This is why lots of men have two dogs and not two wives:
1. The later you are, the more excited they are to see you.
2. Dogs will forgive you for playing with other dogs.
3. If a dog is gorgeous, other dogs don't hate it.
4. Dogs don't notice if you call them by another dog's name.
5. A dog's disposition stays the same all month long.
6. Dogs like it if you leave a lot of things on the floor.
7. A dog's parents never visit.
8. Dogs do not hate their bodies.
9. Dogs agree that you have to raise your voice to get your point across.
10. Dogs like to do their snooping outside rather than in your wallet or desk.
11. Dogs seldom outlive you.
12. Dogs can't talk.
13. Dogs enjoy petting in public.
14. You never have to wait for a dog; they're ready to go 24-hours a day.
15. Dogs find you amusing when you're drunk.
16. Dogs like to go hunting.
17. Another man will seldom steal your dog.
18. If you bring another dog home, your dog will happily play with both of you.
19. A dog will not wake you up at night to ask, "If I died would you get another dog?"
20. If you pretend to be blind, your dog can stay in your hotel room for free.
21. If a dog has babies, you can put an ad in the paper and sell them.
22. A dog will let you put a studded collar on it without calling you a pervert.
23. A dog won't hold out on you to get a new car.
24. If a dog smells another dog on you, they don't get mad, they just think it's interesting.
25. On a car trip, your dog never insists on running the heater or acting as a backseat driver.
26. Dogs don't let magazine articles guide their lives.
27. When your dog gets old, you have the option of putting it down.
28. Dogs are not allowed in Bloomingdales or Neiman-Marcus or Tiffany's etc. etc.
29. Dogs don't mind if you want to watch the sports match on the television, as a matter of fact if you let them, they will probably cuddle on the couch beside you and keep you company.
30. If a dog leaves, it won't take half your stuff
***********************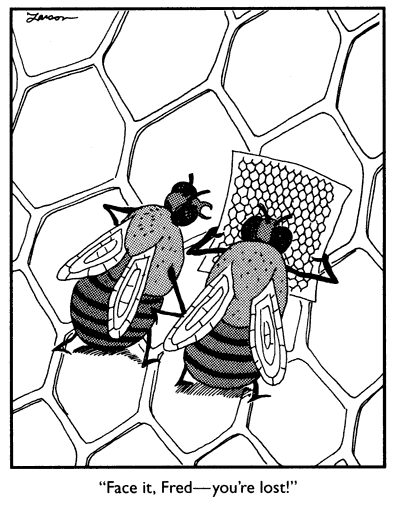 ***********************
***********************
Q: What happened to the shepherd when he drove his sheep through a town?
A: He got a ticket for making a ewe turn
***************
Everything I need to know about life, I learned from Noah's Ark...
One: Don't miss the boat.
Two: Remember that we are all in the same boat.
Three: Plan ahead. It wasn't raining when Noah built the Ark.
Four: Stay fit. When you're 600 years old, someone may ask you to do something really big.
Five: Don't listen to critics; just get on with the job that needs to be done.
Six: Build your future on high ground.
Seven: For safety's sake, travel in pairs.
Eight: Speed isn't always an advantage. The snails were on board with the cheetahs.
Nine: When you're stressed, float a while.
Ten: Remember, the Ark was built by amateurs; the Titanic by professionals.
***********************
Where Do Pets Come From?
Adam said, "Lord, when I was in the garden, you walked with me every day. Now I do not see you anymore. I am lonesome here and it is difficult for me to remember how much you love me." And God said, "No problem! I will create a companion for you that will be with you forever and who will be a reflection of my love for you, so that you will love me even when you cannot see me. Regardless of how selfish or childish or unlovable you may be, this new companion will accept you as you are and will love you as I do, in spite of yourself."
And God created a new animal to be a companion for Adam. And it was a good
animal. And God was pleased. And the new animal was pleased to be with Adam and he wagged his tail. And Adam said, "Lord, I have already named all the animals in the Kingdom and I cannot think of a name for this new animal."
And God said, "No problem! Because I have created this new animal to be a
reflection of my love for you, his name will be a reflection of my own name, "and you will call him DOG."
And Dog lived with Adam and was a companion to him and loved him. And Adam
was comforted. And God was pleased. And Dog was content and wagged his tail.
After a while, it came to pass that Adam's guardian angel came to the Lord and said, "Lord, Adam has become filled with pride. He struts and preens like a peacock and he believes he is worthy of adoration. Dog has indeed taught him that he is loved, but perhaps too well."
And the Lord said, "No problem! I will create for him a companion who will be with him forever and who will see him as he is. The companion will remind him of his limitations, so he will know that he is not always worthy of adoration."
And God created Cat to be a companion to Adam. And Cat would not obey Adam. And when Adam gazed into Cat's eyes, he was reminded that he was not the Supreme Being.
And Adam learned humility.
And God was pleased. And Adam was greatly improved.
And Dog was happy.
And Cat didn't give a sh*t one way or the other.
**********************************
**********************************
THE SNIFFER DOG
A man is sitting in a plane which is about to take-off when another man with a dog occupies the empty seats alongside. The dog is sat in the middle, and the first man is looking quizzically at the dog when the second man explains that they work for the airline.
The dog handler says to the first man, "Don't mind Rover, he is a sniffer dog, the best there is. I'll show you once we get airborne and I set him to work."
The plane takes off and levels out when the handler says to the first man, "Watch this."
He tells the dog, "Rover, search."
The dog jumps down, walks along the aisle and sits next to a woman for a few seconds, it then returns to its seat and puts one paw on the handler's arm. He says, "Good boy", and turns to the first man and says, "That woman is in possession of marijuana, so I'm making a note of this, and the seat number, for the police who will apprehend her on arrival."
"Fantastic!" replies the first man.
Once again he sends the dog to search the aisles. The dog sniffs about, sits down beside a man for a few seconds, returns to its seat and places both paws on the handler's arm.
He says, "Good boy", and turns to the first man and says, "That man is carrying cocaine, so again, I'm making a note of this, and the seat number."
"That's marvelous, I've never seen anything like it!" says the first man.
Once again he sends the dog to search the aisles. He goes up and down the plane and after a while sits down next to someone, and then comes racing back and jumps up onto the seat and shits all over the place.
The first man is surprised and disgusted by this, and asks "What the bloody hell is going on?"
The handler replies, "He's just found a bomb!"
********************
WHY WE LOVE CHILDREN

A kindergarten pupil told his teacher he'd found a cat.
She asked him if it was dead or alive.
"Dead." She was informed.
"How do you know?" she asked her pupil.
"Because I pissed in its ear and it didn't move," answered the child innocently.
"You did WHAT?!?" the teacher exclaimed in surprise.
"You know," explained the boy, "I leaned over and went 'Pssst!' and it didn't move."
***********************
***********************
Some of us are dog people, and some of us are cat people...

EXCERPTS FROM A DOG'S DIARY

Day number 180
8:00 am - OH BOY! DOG FOOD! MY FAVORITE!
9:30 am - OH BOY! A CAR RIDE! MY FAVORITE!
9:40 am - OH BOY! A WALK! MY FAVORITE!
10:30 am - OH BOY! A CAR RIDE! MY FAVORITE!
11:30 am - OH BOY! DOG FOOD! MY FAVORITE!
12:00 noon - OH BOY! THE KIDS! MY FAVORITE!
1:00 pm - OH BOY! THE YARD! MY FAVORITE!
4:00 pm - OH BOY! THE KIDS! MY FAVORITE!
5:00 PM - OH BOY! DOG FOOD! MY FAVORITE!
5:30 PM - OH BOY! MOM! MY FAVORITE!

Day number 181
8:00 am - OH BOY! DOG FOOD! MY FAVORITE!
9:30 am - OH BOY! A CAR RIDE! MY FAVORITE!
9:40 am - OH BOY! A WALK! MY FAVORITE!
10:30 am - OH BOY! A CAR RIDE! MY FAVORITE!
11:30 am - OH BOY! DOG FOOD! MY FAVORITE!
12:00 noon - OH BOY! THE KIDS! MY FAVORITE!
1:00 pm - OH BOY! THE YARD! MY FAVORITE!
4:00 pm - OH BOY! THE KIDS! MY FAVORITE!
5:00 PM - OH BOY! DOG FOOD! MY FAVORITE!
5:30 PM - OH BOY! MOM! MY FAVORITE!

Day number 182
8:00 am - OH BOY! DOG FOOD! MY FAVORITE!
9:30 am - OH BOY! A CAR RIDE! MY FAVORITE!
9:40 am - OH BOY! A WALK! MY FAVORITE!
10:30 am - OH BOY! A CAR RIDE! MY FAVORITE!
11:30 am - OH BOY! DOG FOOD! MY FAVORITE!
12:00 noon - OH BOY! THE KIDS! MY FAVORITE!
1:00 pm - OH BOY! THE YARD! MY FAVORITE!
1:30 pm - ooooooo. bath. bummer.
4:00 pm - OH BOY! THE KIDS! MY FAVORITE!
5:00 PM - OH BOY! DOG FOOD! MY FAVORITE!
5:30 PM - OH BOY! MOM! MY FAVORITE!

EXCERPTS FROM A CAT'S DIARY

DAY 752 - My captors continue to taunt me with bizarre little dangling objects. They dine lavishly on fresh meat, while I am forced to eat dry cereal. The only thing that keeps me going is the hope of escape, and the mild satisfaction I get from ruining the occasional piece of furniture.
Tomorrow I may eat another houseplant.

DAY 761 - Today my attempt to kill my captors by weaving around their feet while they were walking almost succeeded, must try this at the top of the stairs. In an attempt to disgust and repulse these vile oppressors, I once again induced myself to vomit on their favorite chair...must try this on their bed.

DAY 765 - Decapitated a mouse and brought them the headless body, in attempt to make them aware of what I am capable of, and to try to strike fear into their hearts. They only cooed and condescended about what a good little cat I was...Hmmm. Not working according to plan.

DAY 768 - I am finally aware of how sadistic they are. For no good reason I was chosen for the water torture. This time however it included a burning foamy chemical called "shampoo." What sick minds could invent such a liquid. My only consolation is the piece of thumb still stuck between my teeth.

DAY 771 - There was some sort of gathering of their accomplices. I was placed in solitary throughout the event. However, I could hear the noise and smell the foul odor of the glass tubes they call "beer". More importantly I overheard that my confinement was due to MY power of "allergies." Must learn what this is and how to use it to my advantage.

DAY 774 - I am convinced the other captives are flunkies and maybe snitches.
The dog is routinely released and seems more than happy to return. He is obviously a half-wit. The bird on the other hand has got to be an informant, and speaks with them regularly. I am certain he reports my every move. Due to his current placement in the metal room his safety
is assured.

But I can wait, it is only a matter of time...
****************************
****************************
Dog Letters To God

Dear God, How come people love to smell flowers, but seldom smell one another?
Where are their priorities?

Dear God, When we get to Heaven, can we sit on your couch?
Or is it the same old story?

Dear God, Excuse me, but why are there cars named after the jaguar, the cougar,
the mustang, the colt, the stingray, and the rabbit, but not one named for a
dog?
How often do you see a cougar riding around? We dogs love a nice ride! I know
every breed cannot have its own model, but it would be easy to rename the
Chrysler Eagle the Chrysler Beagle!

Dear God, If a dog barks his head off in the forest and no human hears him, is
he still a bad dog?

Dear God, Is it true that in Heaven, dining room tables have on ramps?

Dear God, If we come back as humans, is that good or bad?

Dear God, More meatballs, less spaghetti, please.

Dear God,!
When we get to the Pearly Gates, do we have to shake hands to get in?

Dear God, We dogs can understand human verbal instructions, hand signals,
whistles, horns, clickers, beepers, scent IDs, electromagnetic energy fields,
and Frisbee flight paths.
What do humans understand?

Dear God, Are there dogs on other planets or are we alone?
I have been howling at the moon and stars for a long time, but all I ever hear
back is the beagle across the street!

Dear God, Are there mailmen in Heaven? If there are, will I have to apologize?

Dear God, Is it true that dogs are not allowed in restaurants because we can't
make up our minds what NOT to order? Or is it the carpets thing, again?

Dear God, May I have my testicles back?

********************
| | | |
| --- | --- | --- |
| | | |

********************
Newly recognized AKC Breeds and their outstanding characteristics:
(AKC = American Kennel Club)

Collie + Lhasa Apso
Collapso, a dog that folds up for easy transport

Pointer + Setter
Poinsetter, a traditional Christmas pet

Great Pyrenees + Dachshund
Pyradachs, a puzzling breed

Pekingnese + Lhasa Apso
Peekasso, an abstract dog

Irish Water Spaniel + English Springer Spaniel
Irish Springer, a dog fresh and clean as a whistle

Labrador Retriever + Curly Coated Retriever
Lab Coat Retriever, the choice of research scientists

Newfoundland + Basset Hound
Newfound Asset Hound, a dog for financial advisors

Terrier + Bulldog
Terribull, a dog that makes awful mistakes

Bloodhound + Labrador
Blabador, a dog that barks incessantly

Malamute + Pointer
Moot Point, owned by....oh, well, it doesn't matter anyway

Collie + Malamute
Commute, a dog that travels to work

Deerhound + Terrier
Derriere, a dog that's true to the end

Bull Terrier + Shitzu
Oh, never mind....
********************
| | | |
| --- | --- | --- |
| | | |
********************
I was flying from San Francisco to Los Angeles. By the time we took off, there had been a 45-minute delay and everybody on board was ticked.
Unexpectedly, we stopped in Sacramento on the way. The flight attendant explained that there would be another 45-minute delay, and if we wanted to get off the aircraft, we would reboard in 30 minutes.
Everybody got off the plane except one gentleman who was blind. I noticed him as I walked by and could tell he had flown before because his Seeing Eye dog lay quietly underneath the seats in
front of him throughout the entire flight. I could also tell he had flown this very flight before
because the pilot approached him and, calling him by name, said, "Keith, we're in Sacramento for almost an hour. Would you like to get off and stretch your legs?" Keith replied, "No thanks, but maybe my dog would like to stretch his legs."
Picture this: All the people in the gate area came to a completely quiet standstill when they looked up and saw the pilot walk off the plane with the Seeing Eye dog! The pilot was even wearing sunglasses. People scattered. They not only tried to change planes, they also were trying to change airlines!
******************
******************
THINGS I MUST REMEMBER WHEN I COME BACK AS A DOG...


1. The garbage collector is not stealing our stuff.
2. I do not need to suddenly stand straight up when I'm lying under the coffee table.
3. I will not roll my toys behind the fridge, behind the sofa or under the bed.
4. I must shake the rainwater out of my fur before entering the house.
5. I will not eat the cats' food, before they eat it or after they throw it up.
6. I will stop trying to find the few remaining pieces of clean carpet in the house when I am about to get sick.
7. I will not throw up in the car.
8. I will not roll on dead seagulls, fish, crabs, etc. just because I like the way they smell.
9. "Kitty box crunchies", although they are tastie, are not food.
10. I will not eat any more Kleenex or napkins and then redeposit them in the backyard after processing.
11. The diaper pail is not a cookie jar.
12. I will not chew my human's toothbrush and not tell them.
13. I will not chew crayons or pens, especially not the red ones, or my people will think I am hemorrhaging.
14. When in the car, I will not insist on having the window rolled down when it's raining outside.
15. I will not steal my mom's underwear and dance all over the backyard with it.
16. The sofa is not a face towel. Neither are mom and dad's laps.
17. My head does not belong in the refrigerator.
18. I will not bite the officer's hand when he reaches in for dad's driver's license and car registration.
19. I will not play tug-of-war with dad's underwear when he's on the toilet.
20. I will not eat mint flavored dental floss out of the bathroom garbage, because I don't want to have a string hanging out of my butt.
21. I will not play "roll around in the dirt" after just getting a bath.
22. Sticking my nose into someone's crotch is not an acceptable way of saying hello.
23. I will not hump on any person's leg just because I thought it was the right thing to do.
24. I will not fart in my owners face while sleeping on the pillow next to their head.
25. I will not come in from outside and immediately drag my butt across the carpet.
26. The toilet bowl is not a never ending water supply and, just because the water is blue, it doesn't mean it is cleaner.
27. I will not sit in the middle of the living room and lick my crotch when company is over.
28. Suddenly turning around and smelling my butt makes people put me outside.
29. The cat is not a squeaky toy so when I play with him and he makes that noise, it's usually not a good thing.
******************
******************
PLEASE REMEMBER THIS IS A JOKE, DO NOT ACTUALLY ATTEMPT THE FOLLOWING.> >> >> >> >
๪> >>HOW TO GIVE A CAT A PILL
LL:1) >> >
Pick cat up and cradle it in the crook of your left arm as if > holding > >a > >> >baby. Position right forefinger and thumb on either side of cat's > mouth > >> >and gently apply pressure to cheeks while holding pill in right hand. > As > >> >cat opens mouth pop pill into mouth. Allow cat to close mouth and
> >swallow.
> >> >
> >> >2) Retrieve pill from floor and cat from behind sofa. Cradle cat in > left > >> >arm and repeat process.
> >> >
> >> >3) Retrieve cat from bedroom, and throw soggy pill away.
> >> >
> >> >4) Take new pill from foil wrap, cradle cat in left arm holding rear > paws > >> >tightly with left hand. Force jaws open and push pill to back of > mouth > >> >with right fore-finger. Hold mouth shut for a count of ten.
> >> >
> >> >5) Retrieve pill from goldfish bowl and cat from top of wardrobe. > Call > >> >spouse from garden.
> >> >
> >> >6) Kneel on floor with cat wedged firmly between knees, hold front and > >rear > >> >paws. Ignore low growls emitted by cat. Get spouse to hold head > firmly > >> >with one hand while forcing wooden ruler into mouth. Drop pill down > >ruler > >> >and rub cat's throat vigorously.
> >> >
> >> >7) Retrieve cat from curtain rail, get another pill from foil wrap. > Make > >> >note to buy new ruler and repair curtains. Carefully sweep shattered > >> >figurines and vases from hearth and set to one side for gluing later.
> >> >
> >> >8) Wrap cat in large towel and get spouse to lie on cat with head just > >> >visible from below armpit. Put pill in end of drinking straw, force > >mouth > >> >open with pencil and blow down drinking straw.
> >> >
> >> >9) Check label to make sure pill not harmful to humans, drink glass of > >> >water to take taste away. Apply band-aid to spouse's forearm and > remove > >> >blood from carpet with cold water and soap.
> >> >
> >> >10) Retrieve cat from neighbor's shed. Get another pill. Place > cat > >in > >> >cupboard and close door onto neck to leave head showing. Force mouth > ope> >n > >> >with dessert spoon. Flick pill down throat with elastic band.
> >> >
> >> >11) Fetch screwdriver from garage and put cupboard door back on > hinges. > >> >Apply cold compress to cheek and check records for date of last > tetanus > >> >jab. Throw Tee-shirt away and fetch new one from bedroom.
> >> >
> >> >12) Ring fire brigade to retrieve cat from tree across the road. > >> >Apologize to neighbor who crashed into fence while swerving to avoid > cat. > >> >Take last pill from foil-wrap.
> >> >
> >> >13) Tie cat's front paws to rear paws with garden twine and bind > >tightly > >> >to leg of dining table, find heavy duty pruning gloves from shed. > Push > >> >pill into mouth followed by large piece of fillet steak. Hold head > >> >vertically and pour 2 pints of water down throat to wash pill down.
> >> >
> >> >14) Get spouse to drive you to the emergency room, sit quietly > while > >> >doctor stitches fingers and forearm and removes pill remnants from > right > >> >eye. Call furniture shop on way home to order new table.
> >> >
> >> >15) Arrange for SPCA to collect cat and ring local pet shop to see > if > >> >they have any hamsters.> >> >
> >> >HOW TO GIVE A DOG A PILL:
> >> >
>> >1) Wrap it in bacon.
*************
*************
A shepherd was herding his flock in a remote pasture when suddenly a brand-new BMW advanced out of the dust cloud towards him. The driver, a young man in a Broni suit, Gucci shoes, Ray Ban sunglasses and Yves Saint-Laurent tie, leaned out the window and asked the shepherd, "If I tell you exactly how many sheep you have in your flock, will you give me one?"

The shepherd looked at the man, obviously a yuppie, then looked at his peacefully-grazing flock and calmly answered, "Sure."

The yuppie parked his car, whipped out his IBM ThinkPad and connected it to a cell phone, then he surfed to a NASA page on the Internet where he called up a GPS satellite navigation system, scanned the area, and then opened up a database and an Excel spreadsheet with complex formulas. He sent an email on his Blackberry and, after a few minutes, received a response.

Finally, he prints out a 150 page report on his hi-tech, miniaturized printer then turns to the shepherd and says, "You have exactly 1,586 sheep".

"That is correct, take one of the sheep," said the shepherd.

He watches the young man select one of the animals and bundle it into his car. Then the shepherd says: "If I can tell you exactly what your business is, will you give me back my sheep?"

"OK, why not," answered the young man.

"Clearly, you are a consultant" said the shepherd.

"That's correct," says the yuppie, "but how did you guess that?"

"No guessing required," answers the shepherd. "You turned up here, although nobody called you. You want to get paid for an answer I already knew, to a question I never asked, and you don't know crap about my business. Now give me back my dog".
***********************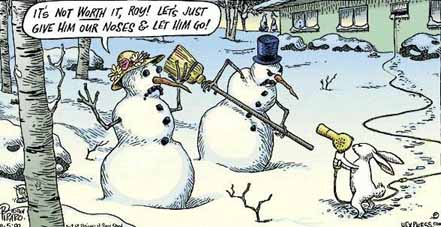 ***********************
>> There's a guy with a Doberman Pinscher and a guy with a >> Chihuahua.
>>
>> The guy with the Doberman Pinscher says to the guy with a >> Chihuahua, "Let's go over to that restaurant and get >> something to eat."
>>
>> The guy with the Chihuahua says, "We can't go in there. >> We've got our dogs with us."
>>
>> The guy with the Doberman Pinscher says, "Just follow my >> lead."
>>
>> They walk over to the restaurant, the guy with the Doberman >> pincher puts on a pair of dark glasses, and he goes to walk >> in.
>>
>> A guy at the door says, "Sorry, mac, no pets allowed.
>>
>> The guy with the Doberman Pinscher says, "You don't >> understand. This is my seeing-eye dog."
>>
>> The guy at the door says, "A Doberman Pinscher?"
>>
>> He says, "Yes, they're using them now, they're excellent."
>>
>> The guy at the door says, "Oh, Ok then come on in."
>>
>> The guy with the Chihuahua figures, "What the hell."
>>
>> He puts on a pair of dark glasses and goes to walk in.
>>
>> The guy at the door says, "Sorry, pal, no pets allowed."
>>
>> The guy with the Chihuahua says, "You don't understand. >> This is my seeing-eye dog."
>>
>> The guy at the door says, "A Chihuahua as a seeing eye dog, your kidding right?"
>>
>> The guy with the Chihuahua says incredulously: "They gave me a Chihuahua?"
****************************
>>
| | | |
| --- | --- | --- |
| | And how do you sleep? | |
| | | |
| | | |
| | | |
| | | |
| | | |
| | | |
| | | |
| | | |
| | | |
| | | |
| | | |
| | | |
| | | |
| | REALLY LOST !!! | |
| | | |
| | | |
| | | |